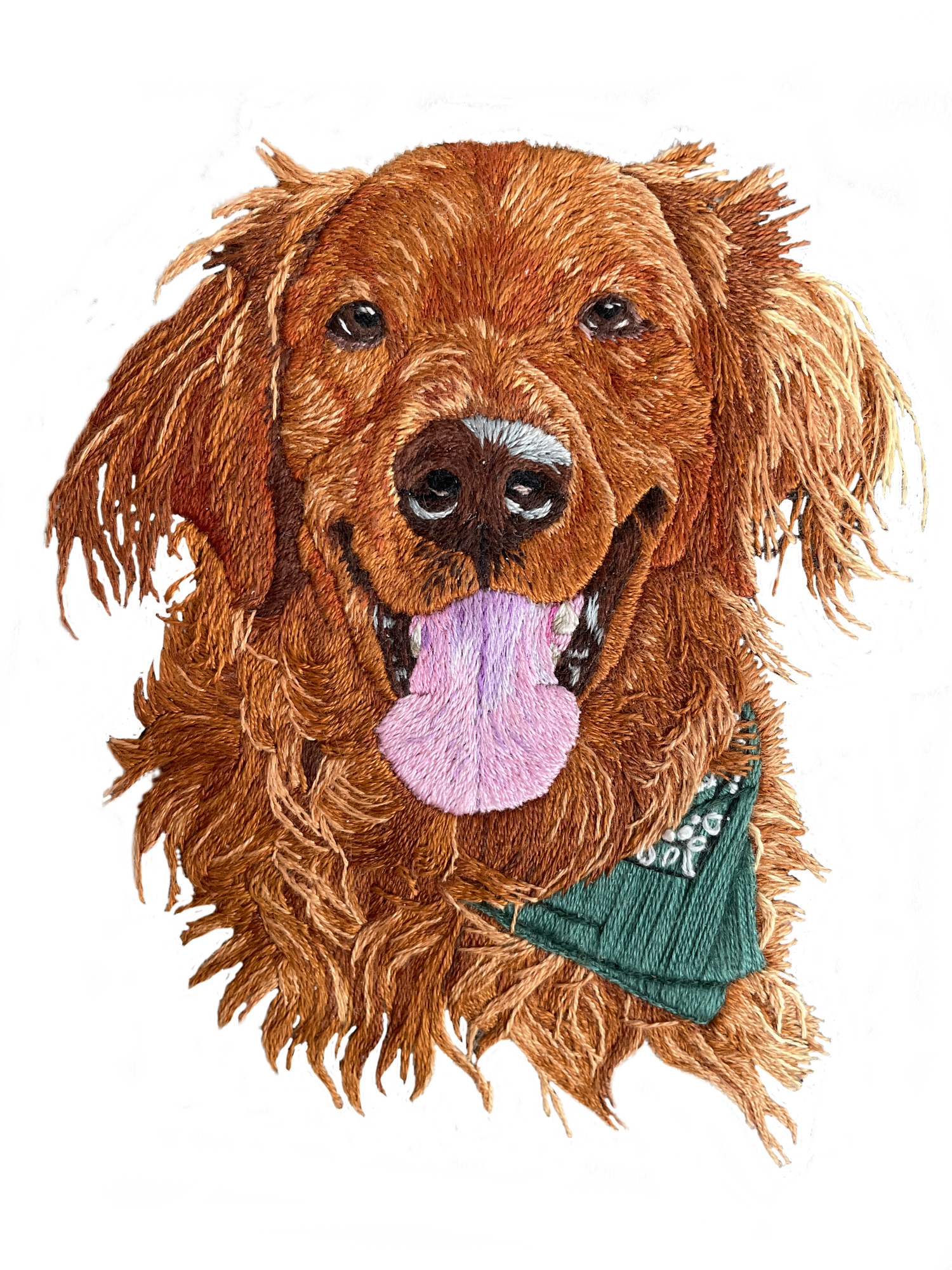 What Customers are Saying
Steven Lentz 01/24/2023

"Francis is a very talented artist who obviously loves animals.  The two sets of earrings depicting the faces of Maxie the black dog and Bo the mix color dog capture their unique qualities.  Even better they are easier to care for than Bo's muddy feet when he comes in from playing or chasing squirrels.  

Francis' talent has received many compliments from friends of Mary, the owner, even her 20-something sons think they're cool. I highly recommend Francis' work.

Steve Lentz"

Jeffrey Blitz 01/05/2023

"Hi Francis,

Just wanted to update you that I gave your beautiful cufflinks to my partner tonight for his birthday and he said, simply, they're the best gift he's ever received. 

He was totally wowed.  Thank you again!  You really made his birthday even more special.

Jeff"

Brian Satorius 01/01/2023

"Happy New Year, Francis!

I wanted to tell you that my wife absolutely loved the Osito earrings. She was blown away by your work. Thank you so much for your beautiful creation!

Brian"

Dennis Albrecht 12/13/2022

"It's a very talented fabulous work of art. Period."
Manika Ward 06/25/2022

"Francis is an amazing human being. Her artwork is unlike anything I've ever seen! It's incredible how much detail she can put into a tiny 1" pendant! As you can see, the pieces are stunning. But what you can't fully see from the photos, is how beautiful the texture of her artworks are. Her pieces have an amazing realistic 3D dimension to them that reach out and grab you. Throughout the entire process, Francis was so kind. She would send me photo updates along the way and check in to to ask if there was anything specific I wanted added or changed. I love how she always referred to my fur babies by their names. Also, when creating the memorial piece for my sweet Angel who has passed away, Francis was so compassionate. When the pieces arrived, they were packaged so beautifully. Each piece was individually boxed with a pretty bow in rainbow confetti and tissue paper.  As I opened each box one by one and saw each artwork piece in person for the first time, it took my breath away!"

Jami 12/28/21

"The best communication EVER with updates, etc. And the portrait pendant and necklace is next level fabulousness! I will definitely be a repeat customer."

Lara Laws 12/13/2018

"My friend loved these earrings. She received them within a few days! Highly recommend."
Nicole 12/13/2018

"Amazing job! My grandmother was thrilled with her picture and would definitely reorder. Customer Service was awesome!"

Nicole 12/13/2018

"This photo turned out absolutely phenomenal. My grandma and I's experience was amazing! Francisnelli was very helpful, nice, down to earth. Love how she always showed when progress was being made! All in all we had a great experience and would definitely order from this shop again!"

Erin 10/01/2018

"Francis is so talented! This was gift for my sister after losing her dog, and she (my sister) absolutely loved it and was very moved. Francis stayed in contact throughout the creation process, sending me updates and asking for my input at each step. She puts so much love and dedication into every piece. I will be getting another custom ornament for my sister's oldest dog as well."
Erin 06/17/2018

"These are tiny but hold so much detail. I love expressing this part of my life without drawing too much attention."

Erin 06/17/2018

"It's so beautiful! I live in the desert and love my home, so this helps me show that off subtly."

Mina 05/15/2018

"Nice delicate  crocheted item .fast delivery .I love the design"
daisymay14 05/13/2018

"Love the embroidered earrings!  So nice .. thank you"

Erin 05/10/2018

"My absolute favorite piece. The skill that went into these is unbelievable, & my god the shipping was fast! I am a customer for life now :)"

Erin 05/10/2018

"So excited to give these to my sister. They shipped SO FAST & are excellent quality."

Erin 05/10/2018

"Love the quality, & the shipping was incredibly quick. They're comfortable & look great on."

Erin 05/10/2018

"Absolutely love these. Can't wait to give them to my mom- my grandma  specialized in growing yellow roses, so I wanted her to have a piece of her mom to carry with her."

Erin 05/10/2018

"So well made, with gorgeous details!"

Lizzie 04/25/2018

"I am in love with my Chester and Potato earrings!  So well made! And the packaging was adorable! Highly recommend."

Amanda 03/07/2018

"So delicate and sweet.  These earrings (and their designer) have become one of my favorite vegan Etsy finds!"

Brittany 02/01/2018

"My sister absolutely loved her hummingbird earrings! Thank you for doing something so special for us!"

Chris 12/25/2017

"I ordered a custom piece from her and it turned out better than I could have ever imagined. She kept me updated the whole process and even sent pictures of the progress. My wife was blown away by the piece and it is something we will cherish for years. Thank you!"

Laura 12/19/2017

"I got a custom necklace for a Christmas gift, it turned out so beautifully! The detail is unbelievable. I would definitely recommend this to anyone and I will be raving about the product for as long as it's around. The seller is amazing and contacted me throughout the entire process so I could stay updated. She is so sweet!"

AnnMarie 12/14/2017

"The crocheted jewelry is absolutely adorable and fun (I bought 2 pieces). The perfect choice when I want to express my playful and unique sides."

AnnMarie 12/14/2017

"The crocheted jewelry is absolutely adorable and fun (I bought 2 pieces). The perfect choice when I want to express my playful and unique sides."

Amanda 12/13/2017

"What an absolutely stunning piece of jewelry!! The shop owner was a dream to work with and she created perfect portraits of my rescue babies to go on my earrings. I will absolutely be back to shop with her again. 🖤"

Lisa 12/05/2017

"I purchased the most adorable tiny earrings with bees.  I loved them so much that I made another purchase of little goat earrings. The detail in the tiny space of the earring is amazing!  I love that part of the proceeds go to Rancho Relaxo.  I have a small Goat Rescue myself and love to support others.  I am looking forward to purchasing more of this beautiful work! The packaging they come in is so cute and perfect for a gift!"

Heather A 06/21/2017

"Thank you so much for this beautiful necklace! It's a wonderful portrayal of Toast and I'm so happy to be able to own such a gorgeous and meaningful necklace made by a vegan artist supporting such a wonderful sanctuary. I can't wait to wear it tomorrow!"

Bonnie 10/30/2016

"This item was a real treat to receive.  It is well  made and lovely to unwrap.  Like a present for me!"

Lindy 10/11/2016

"Wonderful to work with on a custom order and the necklace and packaging is beautiful!  Thanks again! "

Lori 08/10/2016

"Absolutely love my crochet collar and matching purse. Seller was over the top great to work with.  We communicated ,back and forth on ideas and she was so easy to work with. She made these custom items right on time, just as agreed. I had these made for my daughter's wedding and they couldn't be more perfect! Didn't want to look like a typical mother of the bride. Wanted a sassy twist to my outfit and this hit the mark! She also included a special gift of a crochet flower  broach to attach to purse. Such a nice surprise! Thanks, Francis, you are such a gifted lady and I appreciate all you did!"

Tara 08/30/2015

"Loved my bracelet soooo much!"

Farah 01/15/2015

"Very well crafted and the packaging was so unexpected.  Love it!!"

Alex 08/13/2014

"Bag is beautifully crafted. Customer service was excellent. Would purchase again! Thanks"

Danielli 08/07/2014

"I'd just bought this item - cushion Cover with crochet flowers -  and I really love it. My Pretty Babi shop has an excellent quality to all items including the scarf that I'd bought before. Prompt and excellent customer service. Fantastic, I'd definitely recommend My Pretty Babi."

Heather 03/02/2014

"I love my bracelet! Fast delivery, and it came in a lovely package as well. Thanks so much."

Rachel 02/26/2014

"These bags are a perfect gift and Francis is a dream to work with. I love the personal touches. Thank you Francis!"

Boogaloo2 02/14/2014

"Lovely bag, very well made, I'm really pleased with it. Great communication from the seller - A*****"

Rachel 02/07/2014

"Francis, You are amazing and you have beautiful work. I love the sweet touches. Thanks so much!"

Rachel 11/08/2013

"Francis is a dream to work with and went above and beyond making this purse for me. It's beautiful and I love it. Thank you!"

Rachel 09/21/2013

"I am completely in love with this bag. I bought it and then decided to request more of them for my bridesmaids. Francis is a dream to work with and has gone out of her way to make it happen. You will not regret ordering from her shop. She's amazingly talented. Thank you Francis!"

04/26/2013

"This is the cutest bolero - just right for Mexico!  Protected my shoulders from the hot sun, but was nice and light to wear."

03/29/2013

"Gorgeous piece, wore it the day it turned up! Came in great time as well, thank you so much!! xxxxx"

03/15/2013

"I bought this little hip pouch, because I love going out with no purse and I was very pleased with it. It is the perfect size to carry your ID and credit card a little bit of money. iPhone fit perfectly. I only got good complement about it."

03/15/2013

"I have bought this beautiful wallet, I love love it."

08/30/2012

"Absolutely beautiful!! ***** I purchased this item for my wedding and it adds such a beautiful vintage look to my dress. Francis was absolutely a pleasure to communicate with, and she was able to tailor it to what I wanted. Thanks so much Francis for such a lovely garment - it was exactly what I wanted! :)"

08/20/2012

"Beautiful belt, excellent seller, super fast delivery! A++++++++++++++"

07/22/2012

"Looking forward to winter so I can wear these all of the time!!"

07/22/2012

"Love, love, love!!  Wore it around the house even though it is 106 outside!!"

01/23/2012

"she was able to make it in another color for me. I love it. simple accessory with great detail and feather light."

09/27/2011

"Beautiful bag!  Received very quickly!!  Great communication with seller.  Thanks!!!"